Gepubliceerd op 22-12-2017
Food waste exists in all kind of forms. It can be the food that we throw away, like the leaves of the cauliflower, or the stems of the broccoli. But often food waste is about the useless by-products created in the food industry. For instance, laying roosters. Food Heroes, an initiative of ZLTO that searches for creative solutions against food waste, asked Foodcurators to create an installation in which people can be educated about the different solutions there are for the problem of laying roosters. This installation was shown at the Embassy of Food at the Dutch Design Week of 2017.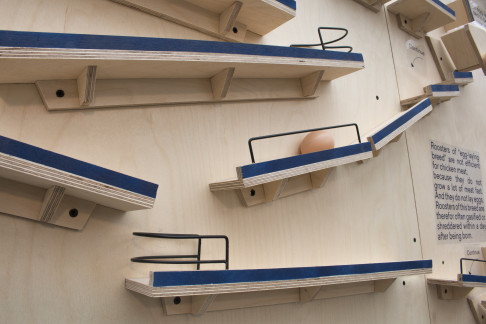 What exactly is a laying rooster? For every laying hen there is born, there is also a male chick. Unfortunately, as we know, roosters do not lay eggs, and are therefore useless in the egg industry. In the poultry industry these laying roosters are also thought of as pretty worthless, because they have less meat than their broiler counterparts. At the moment, there is only one popular solution: to destroy them, either by suffocation or with a shredder. This is without a doubt a waste of life and opportunity.
Fortunately, there are some other solutions which are less wasteful. For example, we can still use the adult rooster for consumption. We used to eat laying roosters all the time, even though they are less meaty than broiler chickens. Another solution is creating a breed that can be used for both eggs and meat. Furthermore, there is a method that enables gender-determination of the chicks during incubation.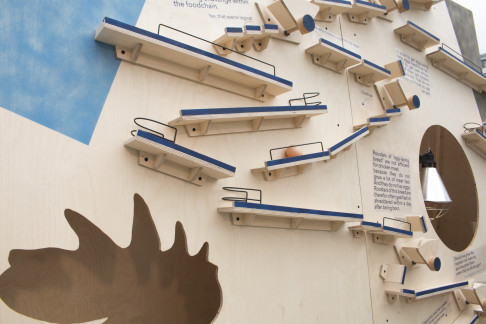 To enlighten visitors at the Dutch Design Week, Foodcurators created a gigantic marble-run for eggs! While rolling the egg through the course, participants were asked a couple of questions to determine which values are most important to them, and which solutions suited them the best.
This project was made possible by ZLTO, in cooperation with Kipster, De Lankerenhof and in Ovo. The installation was on display during the Dutch Design Week in Eindhoven, October 2017